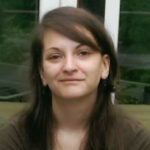 Hello! My name is Oana Goge and I am a game developer!
I love making (and playing!) all kinds of games. I first started programming over 14 years ago and I have been making games professionally for over 5 years.
Freelancing has been a great experience for me, it's great to meet people with fun ideas and bring them to life. I am always up for brainstorming ideas, trying out new technologies and helping out however I can.
Game development has helped me develop a wide array of skills, not only related to programming (where I consider myself a generalist), but also in artwork and sound processing. While I am not a great artist, I know my way around Illustrator, Blender and Audacity, helping me make needed changes to existing assets and overall communicate better with peers in these related fields.
Skills:
Main Languages:
C# – my most used programming language, primarily within Unity
JavaScript – my second most often used language. Used in the vast majority of my HTML5 games
Java – what we used the most during my Computer Science degree. While I have several years of practice in it, I rarely get to use it nowadays
C/C++ – another language I got years of experience in during my education. We had to develop several game engines from scratch using OpenGL and C++
ActionScript3 – used for several university projects when Flash was still widespread
Software:
Unity – my preferred game engine. Feature-rich and flexible
Tumult Hype – a very nice replacement for Adobe Edge, that can make complex HTML animations that work in a wide array of browsers
GIT – my preferred method of source control. I often use Bitbucket, and some of my game jam projects are public!
SVN – less flexible than GIT, but still quite useful. I have used it for almost 2 years during several projects
Visual Studio – best IDE for C#
Blender – I can make and animate basic 3D models and tweak existing ones if needed
Adobe Flash – Although not widely used for game development any more, it's still a great tool for animations
Illustrator – I can create simple graphics (see logo as an example!), and I can tweak/export your artist's existing artwork
Inkscape – although I prefer some of the features of Illustrator, this was my go-to program for vector art before I could afford Illustrator
GIMP – open source Photoshop with some amazing effects that even paid programs don't do as well!
Construct 2 – great for prototyping small HTML5 games, although it can have performance issues for larger projects
Professional Experience:
Freelance game programmer – FireFun Games
September 2014 – Present
developed several mobile and web games
implemented multiplayer and backend solutions in existing games
architectural visualizaiton software
HTML5 presentations
Lead Developer – Lucus Aps
January 2016 – November 2016
multiplayer educational games
location-based games
project management
intern training
Game Developer – Tactile Entertainment
March 2013 – August 2014
worked on Skyline Skaters and Airheads Jump
gameplay programming and UI programming
developing and integrating native plugins for Android and iOS
Education:
IT University of Copenhagen – MSc, Media technology and games
2011 – 2013
Specialization: Games Technology
Thesis:"Using mesh deformation techniques to simulate weapon impact"
A well-known university in Denmark, most people working in the industry in this country have attended it
Courses include:

Game Engines
Game Design
Game Development
Procedural Content Generation
Modern AI in games
"Politehnica" University of Bucharest – BSc, Computer Science
2007 – 2011
Specialization: AI and Computer Graphics
Thesis titled "Adaptive algorithms based on genetic models in games"
Arguably the best university in Romania, giving a wide array of knowledge in all areas related to computers
Courses include (read more detailed descriptions on the official website):

Artificial Intelligence
Machine Learning
Graphical Processing Systems
Human Computer Interaction
Operating Systems
Network Programming
Parallel and Distributed Systems
Databases
Formal Languages and Automata
Assembly Language Programming
Algorithm Design
Algorithm Analysis
Programming Paradigms
Communication Protocols
Object Oriented Programming
Data Structures
Several courses on Mathematics, Electronics and Physics
Languages
English – Advanced 
I've been learning English from cartoons ever since I was 1 year old, and have studied it from kindergarten to university. I consider it like a second native language.
Romanian – Native
Born and raised in Romania, feel free to switch to it if you prefer!
Danish – Conversational
I have been living in Denmark for over 5 years, and I finished the level 5 course required for citizenship. While I still have much to learn to pass as a "native", and I feel much more comfortable with English, I can read any kind of documentation you need me to.
Personal details
Date of birth: 23-01-1989
Country of residence: Denmark
Hobbies: Video games, cats, science and technology, learning something new